Are you starting to wonder if you need an emergency furnace repair in Spring, TX? Things don't cool down in the region often, but when they do, you want to have a furnace that's capable of keeping you comfortable. There are times when you need the help of an expert to get through emergency repairs you don't expect. Know when to call a qualified heating and cooling specialist to protect yourself, your family, and your heating system.
Some of the most common reasons to call for emergency furnace repair in Spring, TX, include odd noises, a fan that won't shut off, a yellow pilot light, an overheating furnace, or a thermostat that's not responding to your adjustments.
Before you make the call for emergency furnace and heating repair, take a look at what you should be watching for. Your furnace may be trying to tell you something!
Odd Noises Coming from the Furnace
You just turned your furnace on, or maybe it's been running on and off for a while now. Suddenly, it's starting to make some pretty strange noises. If the sounds that are coming from your furnace are unfamiliar, you want to call a qualified professional to take a look at your heating system. If caught early enough, you may get away with a simple emergency repair instead of dealing with a much more expensive furnace replacement.
The Fan Won't Shut Off
You've checked all your settings, and there's no reason why your fan should be running. However, it won't shut off, and you're starting to worry about something wrong with your heating equipment. This is a time when it's okay to call a technician to get to your home immediately to help with your furnace problem. An HVAC contractor can identify the cause of this problem and fix it so that your fan will turn off as intended.
A Yellow Pilot Light Means You Need an Emergency Heating Repair in Spring, TX Now
If your pilot light is burning yellow, you need emergency furnace service immediately. Typically, the pilot light to your furnace should burn bright blue. If it's burning yellow, something is wrong, and you could be dealing with a gas leak or even carbon monoxide issues. It's not something that you want to risk. Instead, get the help that you need right away with emergency furnace repair in Spring, TX.
Furnace is Overheating
Is your furnace overheating? This is one of the most obvious signs that you need emergency services. An overheating furnace comes with many risks, including fire hazards, carbon monoxide emissions, and the potential for the complete failure of your system. If you keep up with routine maintenance, you shouldn't have to worry about an overheating furnace.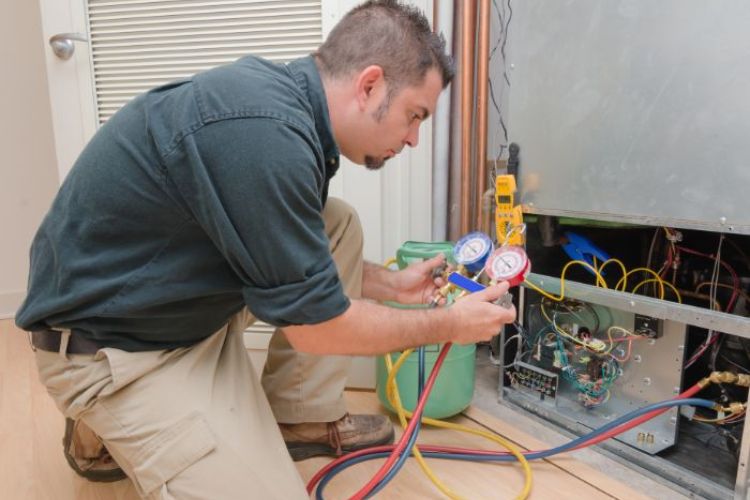 However, if you missed having your inspection done and now this is occurring at your home, you need to call in a professional technician right away. They will make sure the safety of your house and your family are protected.
The Thermostat is Not Responding Properly
Your thermostat is where you can adjust the amount of warm air that gets delivered from your heating system throughout your home. However, there are times when the communication between the thermostat and the furnace gets disrupted. Gas companies know that this can frequently be something as simple as a required battery replacement. However, there are other times that it can point to a much more serious issue with furnaces of all makes and models.
Hiring technicians that are well experience with working on the type of unit, you have is essential because thermostat problems aren't always so easy to diagnose. If you're not getting the heat you expect when turning up the dial in the winter months, you should call for an emergency furnace repair in Spring service.
Call us for Emergency Furnace Repair Services in Spring, TX Today!
Are you seeking 24-hour heating and air conditioning repair near me? The professional technicians from Spring HVAC Repair Pros are eager to serve all of your emergency furnace repairs in Spring and air conditioning needs. Not only are we experienced and well-trained in the more frequently performed air conditioning repairs and other services, but we have a crew capable of diagnosing and fixing the more complex heat problems you face too. So, whether you want to get the heat cranking or you're trying to cool things down with optimum air conditioning, we're the team you can trust.