Plenty of homeowners wonder if it's cheaper to replace AC in winter. Have you been thinking about swapping out your air conditioning unit soon? Of course, you're going to want to get the most reasonable rate for your system. Does that leave you wondering whether the season makes a difference in the purchase price? Before you make the investment, you should know all the factors surrounding the fluctuation in the price of air conditioning equipment.
It is not necessarily cheaper to replace AC in winter. The best time to purchase a new unit is right before the summer. If you must buy an air conditioner in the off-season, the lowest rates are typically noted in February and March.
Why isn't it cheaper to replace AC in winter? Rationale says that it would be less expensive to buy the system because there isn't a demand, and therefore companies will lower their rates. However, the truth is, because the HVAC companies that sell these systems aren't getting as much business during the winter, they may have to increase the rates to make up for the decline in business and profits. 
Please find out more specifics about why it's not necessarily cheaper to replace AC in winter, the best months to buy something new, and clear indications it's time to update your air conditioning equipment.
Is It Cheaper to Replace AC in Winter? – The Best Month To Buy an AC Unit
What is the best time of year to buy a new hvac system? In general, it's not always cheaper to replace AC in winter. So while you might be picturing HVAC contractors that install air conditioning standing around with nothing to do after the weather cools down, they're actually busy with other services.
Even in the warmer climates across the country, heating and cooling technicians have plenty of other jobs to keep them busy during the winter, including installing heating systems, making repairs to furnaces, replacing air filters, installing air quality systems, and more for clients. The company won't put an attractive price tag on the equipment they have sitting around because they know that by spring or summer, someone will purchase it, and they can still get the maximum profit. 
So, when is the best time to buy an air conditioner if you're looking for the most economical way to do it? Experts suggest that the off-season, or from fall to spring, is the ideal window for making the update. What makes this accurate? The primary reason is that the factories that produce air conditioners aren't shipping them out at cheaper rates just because it's winter and customers aren't buying. They have already turned their focus to other items they produce, and air conditioners are pushed off to the side until the new year.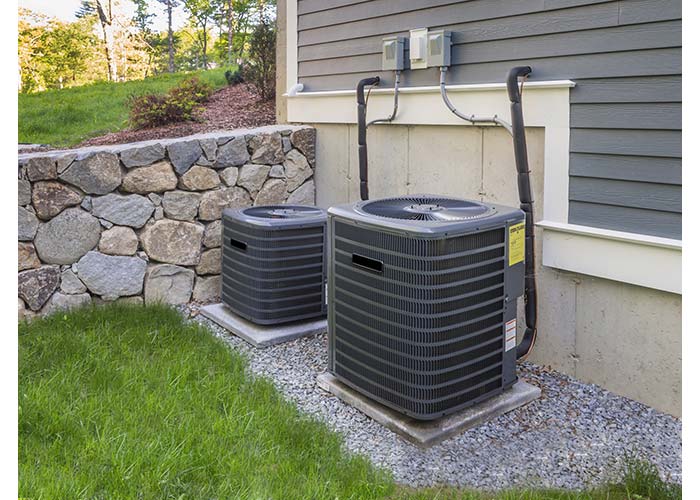 February and March are most likely going to be the greatest opportunity you have to buy an air conditioner at the lowest price you'll find for the year. At this time, manufacturers have already released their latest models, and those will be the more expensive options that are laid out in front of you. However, they will still have a quantity of their older systems, and they'll want to get rid of them to make new for the more advanced, more attractive equipment. That's when they're more likely to drop their cost of air conditioning replacements.
When Are AC Replacements Cheaper in Winter?
Are you wondering when do air conditioners go on clearance? While in most cases, as we've mentioned, it's not a guarantee that your AC will be cheaper in the winter, there are some situations where if you're a savvy homeowner, you may stumble across a decent deal.
So you're wondering, how do I get the best deal on a new HVAC system? One example is when you have another HVAC system that needs to be replaced or if you're purchasing something new, like an air filtration system. Plenty of heating and cooling companies will work with customers that have to buy two systems at once. In turn, they may offer you a package deal if you install an air filtration system and replace your AC simultaneously. If that appointment is scheduled during the winter months, you will likely get a reduced rate.
Another reason why you may be able to find a lower-priced piece of equipment is that you're looking at older models. HVAC manufacturers usually introduce their newly advanced cooling systems after the new year and closer to the spring. As a result, they will lower the cost of the AC replacement options in stock to make room for new inventory.
Signs it's Time to Replace Your AC Unit
Anyone that has worked in the HVAC industry will tell you that you should ALWAYS replace your AC unit in the spring at the very latest. Not because it's more affordable but because you want to be prepared before the warmer temperatures arrive. If you turn on your AC in the spring or early summer and it was in poor condition when you shut it off in the fall, your chances of having to pay for costly and more frequent AC repairs right from the start are much more significant.
You could be thinking that you're saving yourself by not investing in the new equipment before you need it, but it will eventually lead to a stack of air conditioning service call bills that amount to way more than what it would have cost you to just make the replacement at the start of the season.
If you're unsure of how to determine if it's time for a new air conditioner, there are several indicators that you can easily watch for and pinpoint on your own:
The air conditioner's age-qualified

 experts say that you should replace your

air conditioner should be replaced after ten years

. When a decade has passed, the equipment will no longer be as efficient, and it's also almost inevitable you'll be paying for it in repairs and other monthly charges.

An increase in energy bills

– if your costs for utilities have been going up without good cause, like hotter than average temperatures, it's a sign that the cooling system is working harder because it's damaged or worn down, and time for a replacement.

More dust and particles floating through the air

– when you're cleaning up dust, dirt, and dander more frequently than before, the existing AC unit is probably dirty from years of use. Cleaning and maintenance will help for a while, but even deep cleaning won't keep the mess away after so many years.

Lower air quality

– you may notice more frequent headaches, coughing, sneezing, or other respiratory issues occurring in you or a family member. The culprit is the outdated air conditioner that's blowing the dirty air around your home. It's imperative to have an AC unit replaced regularly if you or someone that lives with you has asthma, allergies, or other breathing health concerns.

Strange odors and sounds

– when the cooling equipment is on if you can smell something unusual or hear knocking, banging, grinding, or other sounds that aren't normal for HVAC equipment, something is going on within the unit that has to be looked at right away.

Airflow inconsistencies or problems

– you should be able to feel the air that's coming out of your ducts and vents at a decent rate, especially when the temperatures are high and it's taking more to keep the house comfortable. It could be time for a replacement unit if you can barely get a breeze going across your hand when the system is operating.

An AC unit that can't keep up

– setting the thermostat for your central air conditioner is how the device knows when to turn on and when to shut off. If you have the number on the thermostat set to 68, for example, but the lowest it ever gets in your place is 70, a heating and cooling service call should be made.

The system won't turn off

– this warning goes along with the circumstance where your unit won't keep up with the thermostat setting. If it seems as though your air conditioner is always running or only shuts off for a few seconds at a time, make an appointment with your preferred air conditioning company.
It doesn't matter if you notice any of these signs in the summer, spring, winter, or fall. If one or more are already occurring, it's only a matter of time before the entire system fails. Most reputable HVAC companies will give you a free inspection and assessment of your system. It's always recommended to get a professional opinion before making any decisions about the rather significant investment of a new air conditioner.
Taking Out Air Conditioning Systems In Cold Weather
Depending on where you live, taking out an old, damaged, or outdated AC system in the winter can be rather challenging for HVAC contractors. In places where snow falls inches or feet at a time, it makes it hard for a technician to uncover and remove the older unit. 
As a result, they're spending more time and putting more effort into the service. What does that mean for clients? If they're working at an hourly rate, the final bill for the entire replacement is higher than it would have been if they had easier access in warmer months.
PRO TIP: One point to note is that you should always take those out before the winter season arrives if you're running window air conditioner units. You will lose heated air through the tiny spaces where airflow happens, and it's going to increase your utility bills.
Moisture is present in your air conditioning system, and it's not possible to completely remove it all. If the water freezes, the components inside the air conditioner have the chance of breaking or cracking, leading to more AC repairs or a complete replacement of the window air conditioner when you need it again in the summer. In this case, you'll definitely want to do your shopping and see if it's cheaper to replace AC in winter where you live.
Efficiently Installing AC in the Winter
You have found the deal of the century and figured out it is cheaper to replace AC in winter where you shop, and you don't want to wait until the temperatures rise to have it put in. Can you have it installed in the winter? Of course. HVAC contractors who only do air conditioning installations prefer to have this project taken care of in the off-season. Why? Because their schedules are much lighter, and they have a lot less pressure to get to so many calls in one day or week. 
There are some things to consider when replacing an AC if the temperatures are too low. The low ambient controls that cooling systems are often equipped with are in place to keep your device from turning on if the weather outside is too cold. However, if you do have your equipment in operation for some reason, you're risking damage to the compressor because the oil inside the device is too thick to circulate through the machine.
If you get your AC replacement completed and the temperatures are freezing, be sure to talk with your technician about what the recommended reading should be outside before you try turning on the system. The last thing you want to do is break a brand-new air conditioner right after winter installation because you're using it when it's too chilly for it to function correctly.
The Takeaway About Whether or Not it's Cheaper to Replace AC in Winter
While there are some scenarios where you might find it cheaper to replace AC in winter, like purchasing older models or pairing up the replacement with another HVAC system, in general, it's not the ideal time to make the investment. Instead, authorities in the industry suggest that because manufacturers are helping customers prepare for warmer summer months during the spring, the best time to buy equipment for cooling is in the spring, with February and March being the best months to go shopping.
If you're still asking yourself, when should i buy a new ac unit, Spring HVAC Repair Pros is a professional air conditioning replacement and installation company in Spring, TX you can turn to. They have been established in the region for well over 20 years. The company's qualified heating and cooling contractors have a plethora of knowledge about whether or not it's cheaper to replace AC in winter. So take the information that we've shared with you here, and if you think it's time for an AC replacement, give them a call. They will come to your home or office and do a complete evaluation, offering you several options for AC repair, AC replacement, or AC installation.